Tuesday. 11.14.06 5:59 pm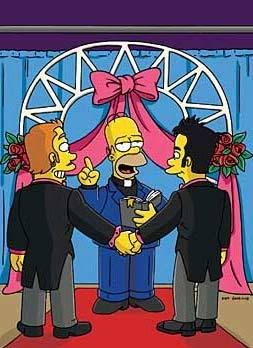 Should gays be allowed to get married. Heck why not?? You know, alcohol was made legal and you have drunks and alcoholics in our midsts all the time. There are gays and lesbians everywhere. If they want to get married why not? If an alcoholic wants a drink, give him directions to the bar. Who are we to judge the good from the bad, the evil from the righteous? I am a christian but I dont believe in controlling peoples lives. The catholic church BELIEVES that Jesus never married. I believe differently. I think he did get married.
My questions to the church would be....
1. Jesus was a man right? Yes.
2. He was born of flesh and blood? correct.
3. He was able to be tempted by satan? That is correct.
Then if he never married, why did he have 12 men following him everywhere??!!
Categories: Gay [t], Lesbian [t], homosexuality [t], marriage [t], gay marriage [t], same sex [t], [t]
"Then if he never married, why did he have 12 men following him everywhere??!!"
LOL, true that BEE!
»
ShaShaBoo
on 2006-11-14 06:08:58
......................... Your logic baffles me.
»
Dilated
on 2006-11-14 06:09:10
I hope that was a joke.
»
Dilated
on 2006-11-14 06:09:27
Joke
Joking about what? I really do feel that to each their own. If they want to live together or marry than they should.
»
kkama67
on 2006-11-14 06:13:32
I think Dilated was talking about what ShaShaBoo quoted. :) I think marriage shouldn't be denied to anyone if they are in love. From my gay friends though I've found them to be...fickle. XD
»
Katrina
on 2006-11-14 06:23:32
Oh!!! ha ha... my bad!
»
kkama67
on 2006-11-14 06:25:10
gayalicious
I agree. I mean in a country where there is supposed to be a seperation of church and state...the church seems to have a pretty big hand in the lawmaking cookie jar.
You know..if a church doesn't want to marry a homosexual couple then that should be fine. But then they should be able to get married by a JOP or by some other official with the power to legally marry two people. But the government should have to accept it. Marriages being performed in a church is more traditional practice than anything else so why can (mostly) Republicans get away with making laws based upon 'truths' from a book?
»
etheracide
on 2006-11-14 08:28:47
Personally I feel that alcohol, drugs, and smoking should be illegal and freedom to marry whomever you choose should be legal. Screw those close-minded churches...
»
randomjunk
on 2006-11-14 08:31:08
True that.
We can't stop homosexuals, and we shouldn't stop them in the first place. :O
»
InsaneFishy
on 2006-11-14 09:05:31
I support gay marriage
Not because I'm gay or anything.. it's just that some in my family are gays so I want to see them being able to live their lives as a married person.. not a spinster or bachelor.
»
Nuttz
on 2006-11-14 11:47:28
Hey, thanks
I really appreciate the comment. :) But, why do you think Jesus was married? I thought that he had 12 men following him around because they were his students. And if Peter was his lover, then man, what a crummy one, he denied Jesus three times. LOL.
»
bilingual
on 2006-11-15 07:21:38
Free food is indeed the best. Because of the church that Dave is renting his room from, there is almost *always* free food about.
»
ikimashokie
on 2006-11-15 07:42:19
Sorry, you do not have permission to comment.
If you are a member, try logging in again or accessing this page here.