Thursday. 11.30.06 2:46 pm
THE SECRET TO MY SUCCESS
Here it is folks.. the secret to my success. I use blogmad AND blog soldiers. They are both free and operate the same way. Here is the link to sign up.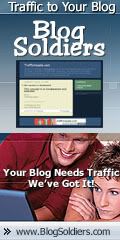 Categories: blogmad [t], blogsoldiers [t], blog [t], traffic [t], free [t], more hits [t], kirei [t], jmc [t], changbang [t]
So you cheated!?!?
»
elessar257
on 2006-11-30 03:07:39
hmm...
I still haven't signed up for one of those things. Maybe I'll get around to it later today.
I think traffic services like that one help a lot of the people who frequent the top-ten. Especially the ones that don't socialize in the shoutbox and forums much.
»
invisible
on 2006-11-30 03:09:00
Whatever, cheater.
In the mean time I'll earn my own HONESTLY, without any help.
Jerk.
»
elessar257
on 2006-11-30 04:04:56
I am neither vegan nor vegetarian. They just have tasty food.
»
ikimashokie
on 2006-11-30 04:17:48
wtf
its not cheating.and she's not a jerk
»
changbang
on 2006-12-01 07:34:22
Sorry, you do not have permission to comment.
If you are a member, try logging in again or accessing this page here.