Metrosexuals snap up cosmetics in China
Tuesday. 12.5.06 4:29 pm
Metrosexuals snap up cosmetics in China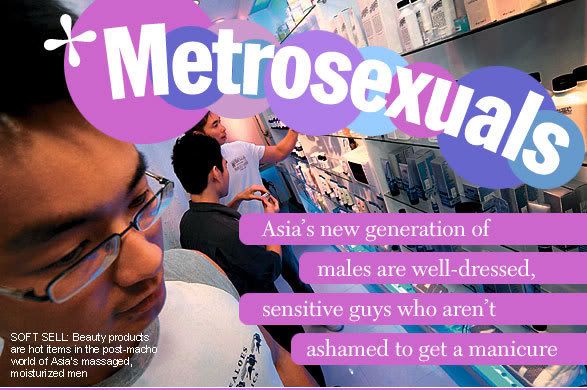 Urban Chinese men spend 8.6 minutes a day gazing at themselves in the mirror and shell out($10) a month on beauty product.
Men in Beijing and the financial center of Shanghai were neck-and-neck on whose residents were most vain.
Those in the capital spent the most money on cosmetics -- an average of 119 yuan a month -- but those in Shanghai looked in the mirror the longest -- about 17 minutes a day.
NOW IS A GOOD TIME TO BE A PLASTIC SURGEON IN CHINA
Categories: metrosexual [t], china [t], men [t], cosmetics [t], chinese [t], gazing [t], shanghai [t]
Hmm, not really--just cuz they're falling love with their reflections doesn't mean they'll pay to change their bodies. Heh, those numbers are nothing compared to the guys 'round here! XD
»
Silver-dot-
on 2006-12-05 05:42:19
I like to dress well. I like to manicure my nails (get compliments on it too). But I'm not sensitive. So... not exactly metro. Just have taste.
I go to the Academy of Broadcasting Corp. We have our own radio station.. I get to have my own show (plus its all on the internet...)
» DeeVeuS on 2006-12-05 08:24:12

well actually.. there are ALOT of plastic surgeons in China nowadays, whole streets of them, tho (some) not licensed nor ethical. they even have pagents for male and female "Man-made Beauties"
» merrick on 2006-12-05 10:55:22

Meh
That only works in China...around here you'd get jumped or something lol. I don't even know the difference between a manicure and a pedicure...but both of them just seem kind of needless to me. I'm not that hideous without them ;-)
» The-Muffin-Man on 2006-12-06 12:29:38

Is it odd that I COULD be metrosexual if I wanted to? I'm not, but I know all of everything. I know how to dress, I know how to have my hair, what to do with extra body hair, such as eyebrows and such, and not just what the difference between a manicure and a pedicure is, but where the best places to go are.
But the things is, I don't do ANY of that. I don't care that much... I prefer to feel comfortable and not use my money on all these unnecessary things. They're nice, but I'm not much for impressing people.
» elessar257 on 2006-12-06 01:11:52
Sorry, you do not have permission to comment.
If you are a member, try logging in again or accessing this page here.