Tuesday. 1.2.07 11:52 am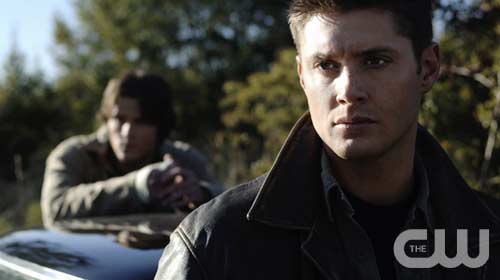 I don't know how many of you watched this show on thursdays but it is very interesting. If you liked X-files or Buffy the Vampire slayer, you would find this could easily become your next favorite.
Synopsis
In the tradition of Buffy The Vampire Slayer and Charmed, the series Supernatural (Sept. 13) is set in the dark world of the unexplained. Sam and Dean Winchester (Jared Padalecki and Jensen Ackles) are two young brothers who are bound to an "other worldly" mission. Traveling the country in their 1969 Chevy Impala, they fulfill their father's quest to quell the supernatural forces responsible for their mother's murder 20 years ago.
Link: http://supernatural.warnerbros.com/
This show airs on fridays... check it out and let me know what you think?
Categories: supernatural [t], paranormal [t], WB [t]
Eh...
Loved X-Files, loved Buffy, loved the first season of Charmed (not so much the rest), but Supernatural... eh.
I tried watching it. It's not bad, it's just not good. It's almost like they tried to make the O.C. into one of the above mentioned shows.
Frankly I despise most of anything that has to do with the CW. Ever since they cancelled Angel, but kept f***ing 7th Heaven... Gosh, I HATED 7th Heaven! So, yeah...
Thanks for the suggestion, though.
»
elessar257
on 2007-01-02 01:18:27
I like Supernatural. The overall premise is pretty cool, but I could do without all the Pop Culture references.
»
Southern
on 2007-01-02 01:21:19
It's on Thursdays fer me. ;) I watch it whenever I can...which isn't much. =[ I like very mucho mucho!
»
Silver-dot-
on 2007-01-03 06:28:22
It's been promising so far, Season One's being shown where I live, on Fridays. :D
»
Cloud
on 2007-01-12 12:55:41
oh i love this show... and i love the elder bro too... hahah
»
jolenesiah
on 2007-01-18 05:18:01
Sorry, you do not have permission to comment.
If you are a member, try logging in again or accessing this page here.