Britney is just a sick little girl
Friday. 2.23.07 11:44 am
Britneys Father Speaks Out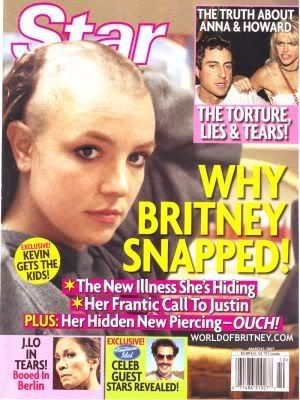 Hollywood.com reported that Britney Spears father, Jamie, has spoken out about his daughters recent troubles, calling her a sick little girl.
Spears father, who, like the Toxic singer, has also sought rehab help, was seen with his daughter when she initially checked into the Promises Treatment Center in Malibu, California, on Tuesday.
The pop star was spotted having dinner with her father on Sunday, when he reportedly pleaded with her to get professional help.
Jamie Spears tells Fox News the problems she is facing are not about what other people think.
He says that he and Spears mother are concerned about our daughter, adding the troubled pop star is sick little girl.
He says, "We are just trying to take care of her."
Categories: britney spears [t], k-fed [t], celebrity [t], entertainment [t]
I wonder what is wrong with her. :( Everything has gone downhill for her these past few years.
»
Kirei
on 2007-02-23 11:49:54
hm...
"sick little girl" can imply ALOT of things.
»
elessar257
on 2007-02-23 01:00:03
Log in (if you can) and go to the affiliate area and add the codes. The directions show you how to do it.
»
Kirei
on 2007-02-23 03:19:02
Hi I added you as a friend too!
thanks for all your help!
»
MsFit
on 2007-02-23 03:23:38
Wait I'm wrong. lol Go to My Blogs and click on "get code". If it accepts it, a check mark will show up on your My Blog area.
»
Kirei
on 2007-02-23 03:28:07
Sorry, you do not have permission to comment.
If you are a member, try logging in again or accessing this page here.