Wednesday. 3.14.07 10:35 pm
I went to tmobile today to get a new sim card for my son. While I was there I found out I was eligible for a phone upgrade. I saw this cute little nokia phone. I dont particullarly care for nokia since I have had my history of problems with them. I really like motorola but the new razor has not come out yet.
Anyhow, I should be getting the new phone in about a week. Luckily my sisters celphone just broke so I will send her my Razor once I get my new nokia...
What do you think??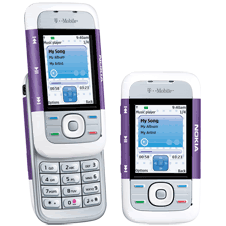 Categories: tmobile [t], changbang [t], lazypuppy [t]
that's a cute little phone, but I'm not too partial on sliders. I've had problems with sliders in the past. the phone I want it the enV, but I don't want to have to go with Verizon in order to get it. . . oh well. maybe other cell phone companies will have it by the time I'm due for an upgrade.
BTW, good luck on your test :)
»
LostSoul13
on 2007-03-14 10:58:17
Oooh, shiny *and* purple. I want one.
»
ikimashokie
on 2007-03-14 11:01:40
WOW!!
That phone looks so cool...and hip...trendy...
I'm envious.
»
Mockiller
on 2007-03-14 11:07:32
Nokia 6300 right? The walkman phone from Nokia.. My friend said that it's cool. You can upgrade the memory card up to 1G if I'm not mistaken.
»
Nuttz
on 2007-03-15 01:42:51
reply to comment
we both tried to look for him,bringing him to counsellors all that.but all he wants from the counsellor is pills....nothing else....not help...and its pretty hard to help him when he keep offending everyone,people he knows and he don't knows.
»
c-s-y
on 2007-03-15 12:16:09
re-comment
Edward Cullen is a character from Stephenie Meyer's Twilight series.
»
Nuttz
on 2007-03-15 12:32:41
THANK YOU FOR THE ADVICE!! It really helps and supports my decision on going back to school. So i guess I'll take a few classes at a time in summer so I can at least finish my GE classes before Sept 08. Thanks so much. *internet hugs* haha.
that phone is cool. I remember seeing it. Them little slider phone things are getting popular. But I still want that one phone that flicks a half circle into a full phone.
»
PsychoEnigma
on 2007-03-15 12:48:53
Sorry, you do not have permission to comment.
If you are a member, try logging in again or accessing this page here.